Forging » Forging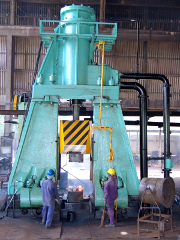 The process of forging is carried out on pneumatic forging hammers with a capacity of 3 to 10 tons. The metal is shaped by hammering the heated cut piece between the top and the bottom dies fixed on the hammer. The finished product through this process is stronger and superior in quality than a similar product produced by casting, pressing or machining.
Forge & Forge constantly updates its machinery to ensure efficiency throughout the forging process. Some of the machinery used in forging at the company include:
Sophisticated CAD and computer modeling
10 Ton Air Steam Stamping Hammer
3.15 Ton Air Steam Stamping Hammers (No's. 2)
Mechanical, Hydraulic and Trimming Presses ranging from 200 tons to 600 tons
Oil fired Pusher Type Heating Furnaces with Recuperators & Controllers
Electric Welding Machine
Cranes, Conveyors and Forklifts
Depending upon the specific requirements of the end use of forged components, forgings undergo further processes such as heat treatment, shot blasting and magnaflux crack detection. Forge & Forge has in-house facilities for all these processes.