Forging » Die Design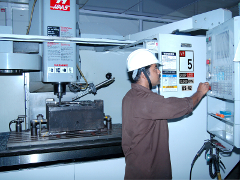 An in-house die-shop equips us for fabrication of all types of dies and tooling, using machines such as: 'HAAS' VMC, Plano Milling Machines, Spark Erosion Machines, Copy Milling Machines, Heavy Duty Lathe Machines, Die Sinking Machines, Vertical Band Saw Machines and Heavy Duty Pillar Drilling Machines.
Dies are produced using Wooden Pattern Graphite Electrode. Full sets of templates are fitted on sinking of the die for rigid dimensional checks and inspection.
Die design and tooling equipment used at Forge & Forge include:
'HAAS' VF-5 Vertical Machine Center
Heavy Duty Lathe Machines
Die Sinking Machines
Vertical Band Saw Machine
Hydraulic Copy Milling Machines
Spark Erosion Machine
Heavy Duty Pillar Drilling Machine
Capstan Lathe Machine
Pneumatic Die Grinders
Plano Milling Machines
Heavy Duty Shaper
Radial Drilling Machines
Long Bed Lathe Machine
Short Bed Lathe Machine