Quality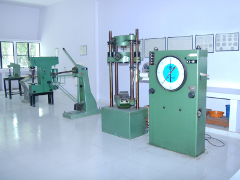 Quality marks the working philosophy of Forge & Forge. The company's Quality Manual and Departmental Procedures have been formally approved to ISO 9001:2000 standards, certified by TUV RHEIN LAND. We are also a vendor certified by Research Design & Standard Organization (RDSO), the scope of which covers the manufacture of forged products.
Quality checks are inbuilt in the process to maintain complete control at every stage of the forging cycle. It begins as soon as the raw materials are received and continues throughout the processes of die development, cutting, forging (including hot inspection), secondary operations and final inspection. Samples are checked for dimensional accuracy and metallurgical soundness. Moreover, samples of hot forgings are inspected at regular intervals for visual forging defects and dimensional accuracy. As part of our quality control, 100% crack detection is carried out on magnaflux machines and hardness is tested to meet with the requirements of the customer.
We consistently strive to surpass quality standards, thanks to our sophisticated combination of machinery and manpower. The Quality Control department plays a very important role in the entire operational flow, ensuring world class quality products for our customers.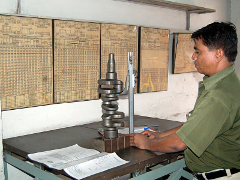 Quality Policy -
Forge & Forge is committed to achieving
Customer Satisfaction
through:
Manufacturing as per agreed drawings
Cost effective and timely delivery
Delivering right product the first time
Continuously improving quality while reducing cost
Motivating and training the staff to continuously improve efficiency
At Forge & Forge, we strive to meet customer satisfaction by ensuring that all products meet our high quality standards and are delivered in a timely manner. We undertake operational and administrative practices at each step of the forging process to provide defect free products to our customers as customer satisfaction is the core of our quality practices.